YOUNGSTOWN AREA COMMUNITY THEATRE ALLIANCE
MARQUEE AWARDS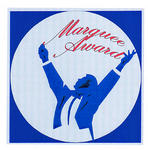 What Are the Marquee Awards?

The Marquee Awards were begun at about the same time as The Alliance. Actually started as a temporary ceremony in place of the absent Youngstown Playhouse Arthur Awards, the Marquees honor all of the local community theatre scene. From the outset, the Marquees have been very closely patterned after Broadway's Tony Awards. Using those awards as a basis and guide, very specific policies and procedures were established for conducting the awards from the day to day operations to voting procedures to the actual physical handling of the awards presentation.
The Marquee Awards are actually administered by the Youngstown Area Community Theatre Alliance. And although YACTA acts as the parenting organization, the awards committee has considerable latitude in running their own operation within certain guidelines that are set down by YACTA. This type of operation enables the awards committee to make pertinent decisions based upon the committee members knowledge of the awards themselves.
Who Is on the Awards Committee?
The Awards Committee can be made up of a maximum of thirty(30) members excluding alternates. Members must be nominated by a current member and then voted on by the members of the sitting committee. Each committee member serves three consecutive terms which run one(1) year, two(2) years and three(3) years. Once they have completed the full cycle, each member must sit out for a period of one(1) year.
When Are the Awards Presented?
The Marquee Awards are presented on the third Saturday of August each year.
For a fuller and more detailed explanation of the Marquee Awards, please visit our Marquee Awards website at: www.marqueeawards.com
THE COMPLETE LIST OF THE OFFICIAL NOMINEES FOR THE "7TH ANNUAL MARQUEE AWARDS" CAN BE VIEWED BY GOING TO www.marqueeawards.com